The Marin Medical Reserve Corps presents Marin Lifesaving Skills training covering Hands-only CPR, AED, Stop the Bleed, and Narcan.
August 25, 2023
Source: https://www.eventbrite.com/e/marin-lifesaving-skills-training-marin-city-tickets-677069441927?aff=ebdsoporgprofile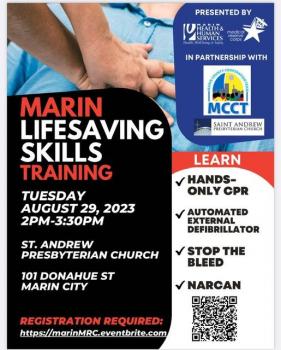 This training is brought to you by Marin County Health and Human Services and the Marin Medical Reserve Corps volunteer program and in partnership with the Novato Community Response Team.
Course Title: Marin Lifesaving Skills
Audience: Open to individuals age 12 and older. Preference for residents of Marin City or affiliates of the Marin County Cooperation Team. If you don't live or are affiliated with the MCCT in Marin City, check out our other classes: https://marinMRC.eventbrite.com
Registration: Please, no walk-ins. Students must pre-register for this training as training space may be limited. If this course fills up, please check out our other course offerings: https://marinMRC.eventbrite.com
Course Overview: This training is 90 minutes and is a combination of PowerPoint lecture, short videos, and hands-on practice with mannequins, tourniquets, and a trainer AED. This training is not certificated: Students do not receive a CPR/AED training certificate. This curriculum is developed using course materials from the American Heart Association Hands-only CPR campaign and American College of Surgeons Stop the Bleed campaign.
Course Objectives: This training is designed to teach laypersons how to:
Deliver chest-compressions to provide hands-only CPR until help arrives
Use an Automated External Defibrillator (AED)
Stop the Bleed by applying pressure, packing a wound, and using a tourniquet
Administer spray Narcan to save a life due to opioid overdose
What to wear: Students should wear comfortable shoes and clothing.